Department of Information Technology
A Series of Seven In House Workshops by CCRL (Computer & Communication Research Lab) at UOH
Computer & Communication Research Lab (CCRL) has been striving to improve the quality of research and development in the fields of Computer Science and Communication at University of Haripur. In this spirit, a series of seven workshops was organized from 10th to 24th May, 2016 at the Department of Information Technology with the support of Head of Department IT and ORIC, UoH.
The response in the form of student participation was overwhelming, as more than 150 students of Computer Science attended these workshops. The motive behind the workshops was to use the talent of faculty members by conducting in-house, free of cost workshop for students on topics that are normally left unaddressed by the designed curricula. The topics of different sessions of workshops were as follows:
Scratch Programming – Programming without Code
Research Methods in Computer Science – Creating Research Project Proposal
Vector Designing – Using Illustrator
Reading Research Papers – Art of Reading
Development with MVC
3D Modeling with Studio Max
Quality Code with C++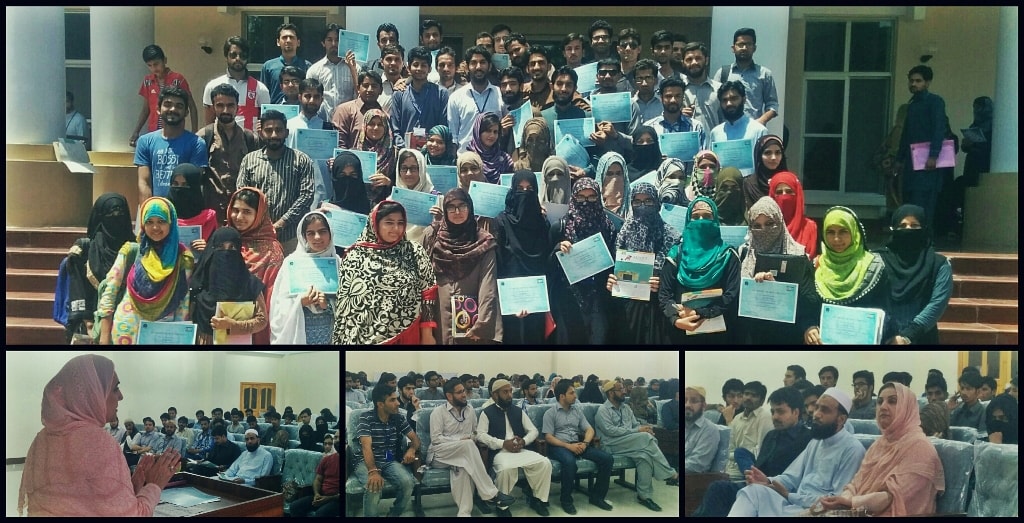 On 26th May, 2016, a concluding ceremony was organized by CCRL for awarding certificates of participation to students. Director Research and Development, Higher Education Commission Ms. Noushaba Awais was the Chief Guest of the event. Other honorable mentions include Dr. Abid Farid, Dean of Faculty of Basic and Applied Sciences, UOH; Dr. Muhammad Jahangir, Manager Industrial Linkages, ORIC, UOH; Mr. Muhammad Junaid, Head of Department, IT, UOH, and Faculty members from the department of Information Technology, UOH. Closing the ceremony, Coordinator CCRL, Mr. Muhammad Aamir Khan, envisioned the future of CCRL and research at the university to be bright and most useful. It was agreed upon by the students and faculty members that in addition to academic activities, workshops like these should also be organized iteratively.