Department of Information Technology
Department of Information Technology, University of Haripur organized a Seminar on Titled "Personal Development and Profile Building"
Introduction:
Syed Hassan Bukhari delivered a presentation on "Personal Development and Profile Building". He is a psychologist and a speaker.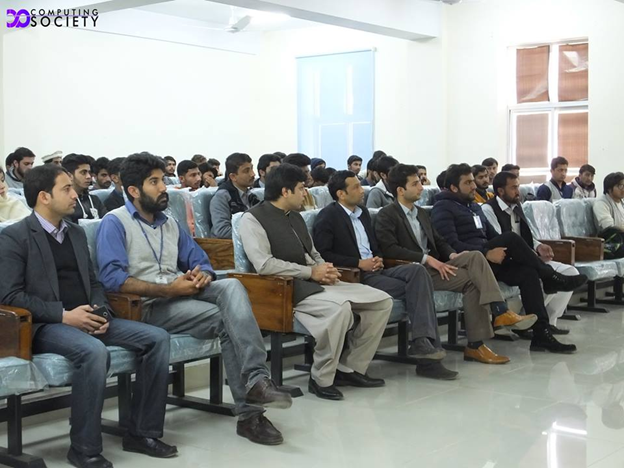 Discussion:
Syed Hassan Bukhari focused on defining personality. He said personality is the thing that makes a man a remarkable individual, and it is unmistakable not long after birth. He told about the parts of youngster's personality: demeanor, condition, and character. Then he defined Demeanor: He said it is an arrangement of hereditary decided characteristics that decide the youngster's way to deal with the world and how the kid finds out about the world. He said that there are no qualities that indicate identity attributes, yet a few qualities do control the improvement of the sensory system, which thus controls conduct. According to him a moment segment of identity originates from versatile examples identified with a tyke's particular condition. He said that most clinicians concur that these two variables—disposition and condition—impact the advancement of a man's identity the most. Disposition, with its reliance on hereditary elements, is here and there alluded to as "nature," while the ecological components are called "support." While there is still discussion as to which consider positions higher influencing identity improvement, all specialists concur that great child rearing assumes a basic part in the advancement of a kid's identity and at the point when guardians see how their kid reacts to specific circumstances, they can expect issues that may be hazardous for their tyke. They can set up the tyke for the circumstance or now and again they may keep away from a possibly troublesome circumstance through and through. He told that guardians who know how to adjust their child rearing way to deal with the specific disposition of their youngster can best give direction and guarantee the fruitful advancement of their kid's identity.
Conclusion:

At the end He concluded his talk with following words: "Personality development is the development of the organized pattern of behaviors and attitudes that makes a person distinctive. Personality development occurs by the ongoing interaction of temperament, character, and environment."