Department of Information Technology
Department of Information Technology, University of Haripur organized a Seminar on Titled "Cyber and Web Security"
Introduction:
Chaudhry Mansab Ali delivered a very informative presentation on "Cyber and Web Security". He has experience of 8 years in field of Cyber Security. He is working as an anchor person on Royal News. He is expert in hacking and cyber security. He is also a public speaker. He has established 5 institutes of cyber security in different cities.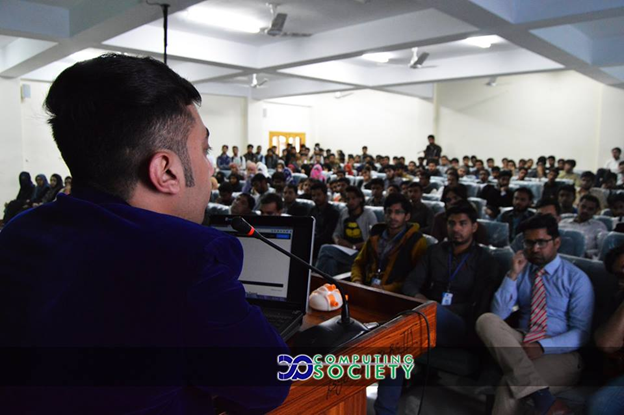 Discussion:
Ch. Mansab Ali defined hacking as "Hacking is the inventive control of code, recognized, but indistinctly, from programming by concentrating on the control of officially composed code in the gadgets or programming for which that code was at that point composed. Allegorically it reaches out to social building in its control of social code to impact change". Then he told about different types of hackers.
Black Hat:
He said black hat hackers are those who engage in hacking for illegal purposes.
White Hat:
Mr. Mansab defined white hat hackers as good hackers and those who doesn't engage in hacking for personal interests.
Grey Hat:
He said grey hat hackers are anonymous. Sometimes they do hacking for personal interests and sometimes they don't have any personal interest.
Hacktivist:
He told that hacktivists are those whose interests are social or political and in results it causes a cyber war.
Noobs:
He said noobs are the newbies or those persons who have less experience in field of hacking.
These are some terms that he defined. Then he told about some phases of hacking.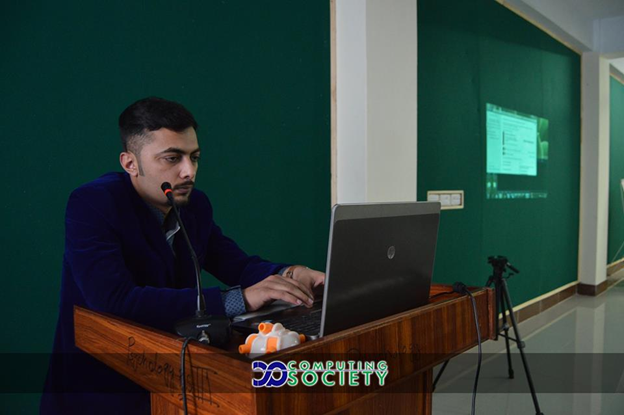 Phases of Hacking:
The phases defined by Ch. Mansab are:
Information Gathering:
He defined this phase as the basic phase of hacking in which information of victim is gathered.
Discovering Vulnerability:
He said it involves taking the information discovered during reconnaissance and using it to examine the network. Tools that a hacker may employ during the scanning phase can include dialers, port scanners, network mappers, sweepers, and vulnerability scanners. Hackers are seeking any information that can help them perpetrate attack such as computer names, IP addresses, and user accounts.
Gaining Access:
According to him after discovering vulnerability, the hacker designs the blueprint of the network of the target with the help of data collected during Phase 1 and Phase 2. He said that this is the phase where the real hacking takes place. Vulnerabilities discovered during the reconnaissance and scanning phase are now exploited to gain access. The method of connection the hacker uses for an exploit can be a local area network (LAN, either wired or wireless), local access to a PC, the Internet, or offline. Examples include stack based buffer overflows, denial of service (DoS), and session hijacking.
Maintaining Access:
He said once a hacker has gained access, they want to keep that access for future exploitation and attacks. Sometimes, hackers harden the system from other hackers or security personnel by securing their exclusive access with backdoors, rootkits, and Trojans.
Clearing Tracks:
He defined clearing tracks as "Once hackers have been able to gain and maintain access, they cover their tracks to avoid detection by security personnel, to continue to use the owned system, to remove evidence of hacking, or to avoid legal action."
Conclusion:
He concluded the session by telling some counter measures like, looking the URL carefully, not to download any file from torrents and changing passwords after sometime.