Department of Management Sciences
UOH hosted Training Workshop on New Synopsis Format based on 'Pitching Research' concept by Prof. Robert Faff (Director Research, University of Queensland, Australia)
A training workshop on New Synopsis Format (MS/MPhil/PhD) based on 'Pitching Research' concept was organized by UoH for capacity building of researchers. Prof. Robert Faff from University of Queensland, Australia himself graced the occasion as resource person. More than 100 participants including VC, Dean, Chairmen, Departmental heads, faculty members and research student attended this session.
Dr. Abid Farid, Vice Chancellor, UoH formally opened the session by a welcome note to Prof. Faff and Mr. I. A. Malik and discussed in detail the motivation for adopting "Pitching Research" concept by UoH as official synopsis format and also explained the implementation process.
Dr. Robert then elaborated the application of "Pitching Research"(accredited in top 30 innovations by AACSB)through a working example (keeping in view the academic-diversity of the audience) related to the field of 'First Aid' and it was considered one of the most valuable aspect by the participants.

The working example was followed by a valuable question and answer session which lasted for more than an hour. At the end, Dr. Shah Masaud Khan, Director, Advance studies & Research Board extended gratitude to Prof. Robert Faff for his valuable time and acknowledged the importance of his idea. Prof. Robert Faff also appreciated the dedication showed by UOH for organizing the workshop and extended his willingness to collaborate with UoH in future on the subject. The participants were thankful to UOH for providing such an opportunity to interact with a world class researcher from a top ranked university, UQ.
A one-hour pre-training workshop session was also held on 13th April 2017 at Video conference Hall, New Academic Block I, UOH for clarity of the basics.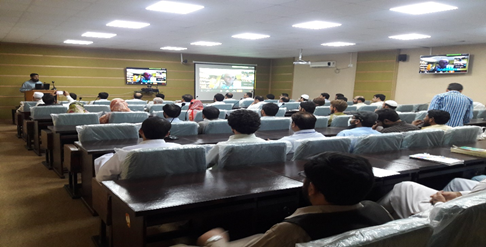 UoH appreciated continuous efforts of Mr. Ihtisham A. Malik from UQ, Australia for bridging the gap with Professor Robert Faff.
Efforts of Dr. Shah Masaud (ASRB, UoH), Dr. Jehangir (ORIC) Mr. Imran Qadir (Management Sciences, UoH), Mr. Mehmood (IT services, UoH), Mr. Athar Kaleem (Data Centre, UoH), Abbass (ASRB) and Abdul Haseeb, Mazhar Mehmood & Umer (Internees ORIC) were recognized for making this a successful event.