Department of Management Sciences
One Day Workshop On Entrepreneurial Minds: Demystifying Myths Organized by Department of Management Sciences, UOH
In difficult times of economic adversity, unemployment and social distress, an environment of pessimism mostly prevails in deprived societies. Nations can only survive and revive if they themselves are committed to stand on their own, design their destinies and shape their future through optimistic actions. There are many ways to rise and become successful and entrepreneurship is one of them. Entrepreneurial societies, organizations and individuals have the resilience, tenacity, smartness and unconquerable will to withstand the strong currents of hardship and dig their way out from most difficult of times, defy the odds and contribute to the betterment of humanity at large.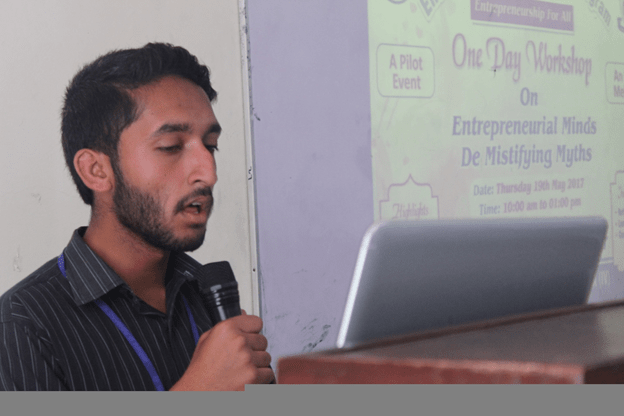 Keeping this in mind, Mr. Imran Qadir, (Lecturer & Focal Person Entrepreneurship & Business Incubation, Department of Management Sciences, UoH) along with his team of students from BBA IV organized a one day workshop on "Entrepreneurial Minds: Demystifying Myths".

Under the slogan of "Entrepreneurship for All", the workshop was designed for everyone (irrespective of who they are demographically, etc.) either unemployed or aspiring to become entrepreneurs but are finding it difficult to take the plunge. This was a pilot event for the forthcoming 'Entrepreneurship Certificate Program' and primarily meant to understand the audience and to gain insight about its effectiveness. Surprisingly, about forty participants showed up on Thursday 19th May 2017 for the workshop with diverse backgrounds.


The workshop took start with an orientation about the philosophy behind the workshop by Muhammad Abbas Qasmi from BBA IV. It was followed with recitation of some verses from The Holy Quran by Mr. Zia Ahmed from BBA IV. Mr. Shahmir Ali from BBA IV then further elaborated the objectives of holding this workshop and why entrepreneurship is critical for growth and development of a sound economy.

Mr. Shiraz Khan, Head, Management Sciences then delivered a welcome note to the participants. He talked about Entrepreneurship as a concept of building business by using his/her abilities and taking action on opportunities.Mr. Shadab Mumtaz and Mr. Shahzad from BBA IV then conducted a pre-workshop survey about the expectations of the participants? The workshop main sessions were conducted by Mr. Imran Qadir (Lecturer and Focal Person Entrepreneurship & Business Incubation, Department of Management Sciences, University of Haripur).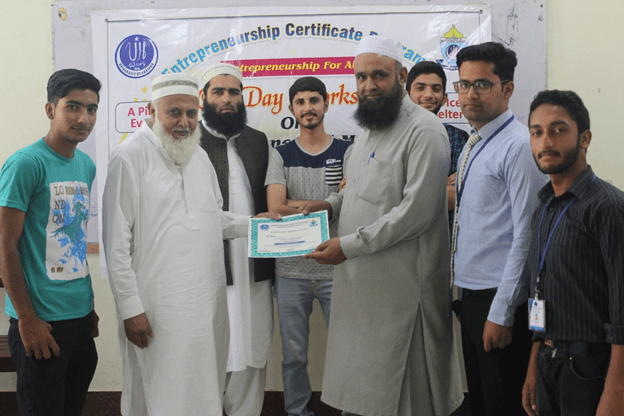 After a brainstorming session about "Who is an entreprenuer?", Initially, a Focused Group Discussion was moderated on the topic "What do you need to become an Entrepreneur?" to undertstand paticipant's mindset which appeared to be predominently causal. The entrepreneurial myths were demystified regarding extensive capital, high vision, business skills, fear of failure, and the like. The second session revolved around the subject of "How expert entreprenuers think and act?". The concept of effectuation was floated in front of the audience by streamling the principles practiced by expert entrepreneurs namely the Bird in Hand principle, the Lemonade principle, the Affordable Loss principle, the Patchwork Quilt principle and the Pilot on the Plane principe. Participants were made to dirty their hands by performing an activity to get them realize the importance of effectual actions. At the end, a case study of Hamilton Naki was presented to demostrate the importance of experential learning. Dr. Saeed, Head, Education Department, appreciated the distributed certificates among the paricipants. Lastly, Mr. Imran Qadir thanked the participants for their precious time and informed them about launching of Entrepreneurship Certificate Program in collaboration with one of the top Business Schools of Pakistan in near future.