Department of Information Technology
Microsoft and HEC celebrated Academic Day at University of Haripur
Microsoft and HEC celebrated Academic Day at University of Haripur on 3rd November, 2017. 250 people including world renowned scholars, HEC officers, Microsoft leading experts, government representatives, industrialists, CEOs, MDs, Academicians and students attended the event. This is one of the largest event to be organized by the University. Chairman HEC, Prof. Dr. Muhktar Ahmed was the Chief Guest on the occasion. Vice Chancellor Prof. Dr. Abid Farid in his welcome address appreciated HEC and Microsoft for choosing the event at Haripur. He presented various achievements of the varsity during the last four years and gave detailed overview of initiatives being taken like ERP indigenous development, scholarships, internships, research and developments. He appreciated IT Department for organizing the event in a decent manner.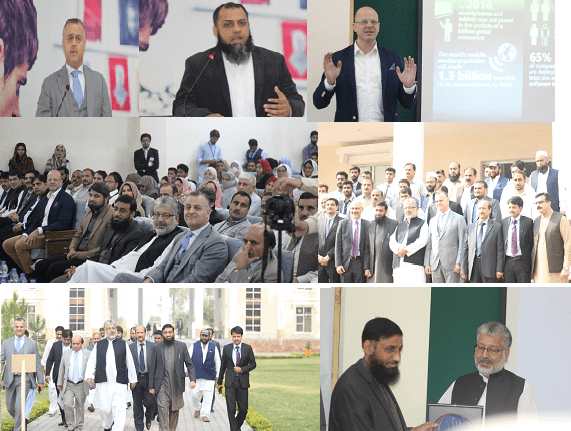 Harb Bou Harb, Senior Director Education and Public Sector, Microsoft North Africa, Middle East and Pakistan outlined the special packages of Microsoft worldwide and especially in Pakistan. He said Microsoft is working hard to bring every possible comfort in the lives of human at affordable cost. Abid Zaidi, Country General Manager, Microsoft detailed the role of Microsoft in Pakistan with special emphasis on free products. Kursat Gunenc, Education Cloud Solutions Lead for Microsoft Middle East and Africa said that Microsoft has launched Windows 10 which is the last edition in the world but updates to this edition continuous. Majed Akl, Devices in Education, Director for Middle East and Africa highlighted technical solutions like Cloud, Azure, imagine cup, MS academies and SharePoint features before the audience. Jibran Jamshed, Modern Workplace Solutions Lead said that HEC and Microsoft teams up to give free office 365 to all Pakistan varsities with absolutely amazing features. He said Microsoft Pakistan and HEC aims to revolutionize the education system of Pakistan with the use of Office 365. By offering access to genuine Microsoft Office 365, it will allow students to install it on 5 devices which include Windows, Mac OS X, iOS, Android smartphones and tablets. All Office 365 subscriptions come with access to 1 TB of OneDrive cloud storage, along with networking services Skype for Business, Sharepoint, Exchange and Yammer. Ammar Al-Atiyat, Education Industry Lead, Microsoft North Africa, East Med and Pakistan demonstrated various features of Windows 10 which are highly appreciated by the audience.
Director IT HEC Mr. Naveed Tahir said HEC is pleased to announce 300 free coupons for the MOS Exams to University of Haripur students. Deputy Director HEC Mr. Faisal briefed about the partnership ventures of both institutes for the betterment of Pakistani varsities. Chairman HEC said, HEC aims to address academic issues through an interactive collaborative platform to the students, faculty and researchers for facilitating them on latest technologies in the industry. HEC wants to promote an atmosphere of self-learning and growth in ways that students today can help in creating the building blocks of a knowledge based economy in Pakistan. He further added and advised to dream for Pakistan and there are hundreds of opportunities available within and outside Pakistan to achieve the dreams.