Department of Information Technology
Huawei ICT Competition 2018-19 organized by computing society, Department of Information Technology
Introduction:
A seminar named "Huawei ICT Competition 2018-19" is organized by computing society of the Department of Information Technology in which guests including Charles Luo- Country Director HUAWEI, Mr. Syed Qasim Bilal and Mr. Tayyub represented Huawei. Huawei, along with the representative of Huawei ICT Academy Advisory Board, officially launched Huawei ICT Competition 2018-2019. The competition will be conducted in two fields: network (IP) and cloud (IT). Huawei ICT Competition invites talented ICT students from around the world to test their capabilities and exchange with each other. The competition is oriented to Huawei Authorized Information and Network Academy (also known as Huawei ICT Academy).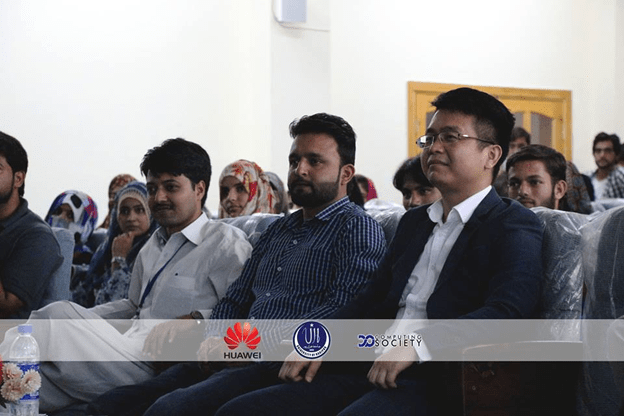 Discussion:
Mr. Shahzad delivered a very good presentation. First he introduced the Huawei Company and then he gave detail about "Huawei ICT Competition 2018-19". He said that Huawei is currently working in 170 countries in the world. And Huawei is the 72 Largest Company of the world. He said that we have carrier business and we provide help in routing and switching to companies like Zong, PTCL etc. He told that Huawei is growing with much of speed because it have 180,000 employees in all over the world. Huawei has 14 R&D (Research and Development) center and 35 Joint Innovation Centers in all over the world.
Huawei is working in Pakistan from last 20 Years and it has established 14 labs in Pakistan. One of which is located in Haripur. He said that every year 1000 student get certification from Huawei.
He said that apart from business Huawei start three programs:
The first one is HAINA that provide training to students.
Second is "Seeds for business" program in which Pakistani students are invited in China for training.
And the third one is "ICT Competition" program that invites talented ICT students from around the world to test their capabilities
He said that top 50 students of ICT Completion 2018-19 are provided internship in Huawei. And top six students are provided job in Huawei.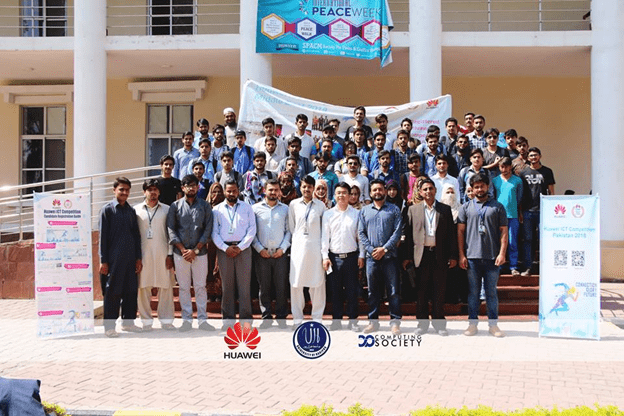 During the presentation there is a question answer session in which the students that give correct answers are given prize by Lou Charles.
He conclude the session by telling that the registration of "ICT Competition 2018-19" are now open and the students who want to compete in this competition can register theirself on the website huaweiacad.com.