Department of Forestry & Wildlife Management
The Spring Tree planting 2019 Initiatives by UOH students at TiP Colony Haripur
We are an eye witness to Digital Media and Modern Society era. It greatly benefits when a combined message of forestry and wildlife extension is delivered to the local community by graduating students who opt for forestry and wildlife management as their future profession.
The role of a Forestry and Wildlife Extension Specialist is to help people to widen their knowledge and experience beyond the immediate range of their crops and animals, to understand more fully how trees or forests fit into the pattern of their lives and how they can derive benefits. In BS (Hons) Semester-IV, students of the Department of Forestry and Wildlife Management are divided into workable groups of five to six to have an experience of tree planting event in Forestry and Wildlife Extension course. They are guided and monitored from
Making groups and selecting members from colleagues
Selecting the planting site of their choice and subsequent visits to planting area
Contacting the responsible person / authority for involving in planting activity,
Specifying date for spring planting,
Taking Department letter as facilitation and help in the event,
Inviting UoH Social Work Coordinator, Advisor, Head of the Department, Faculty members, Teachers of Allied disciplines etc,
Arranging for Planting Stock to the target area,
Selection of Audio-visual Aids and its use with logical reasoning,
Documentation of Format / Structure of community / target audience,
Event Celebration Recording. Each group is given ample time to make the Spring Tree planting 2019 a memorable and successful event by involving the local community.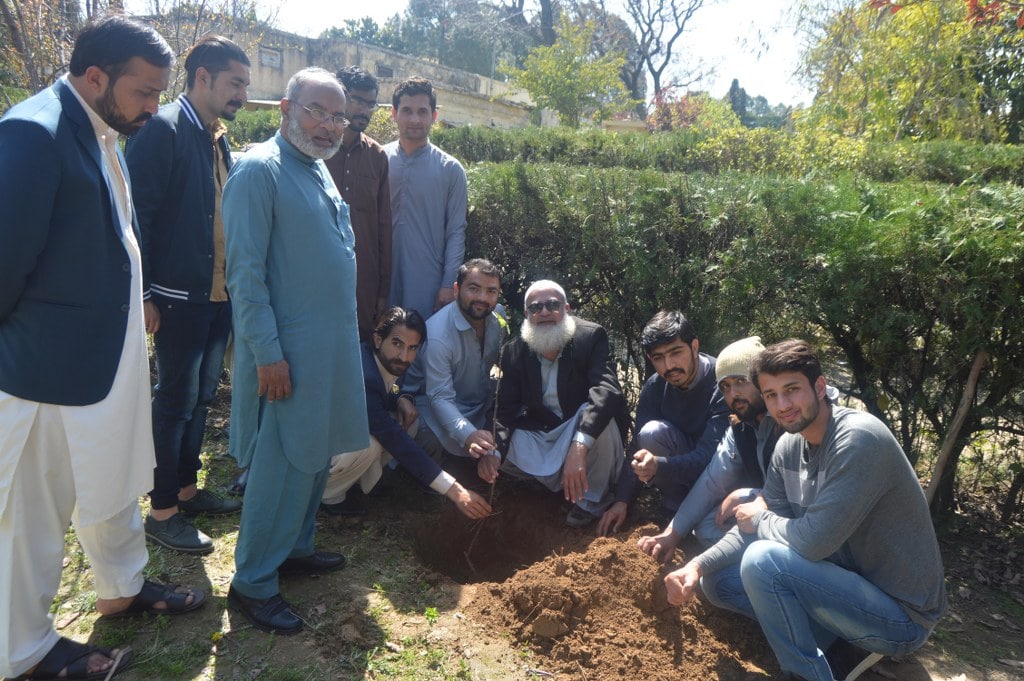 Through this activity, all the students learn to make a brief talk on forestry and wildlife extension to an unfamiliar and potential target group and strive to develop good Communicator abilities. It is expected that conduction of such initiatives can and would promote their professional services in future. Following is the brief summary and ceremonial evidence (photos) of the first group of students on Spring Tree planting 2019 Initiative.
Group #

Planting Site with details

Target community members

Remarks

1.

TiP Colony Haripur
34 fruit plants including guava, Kachnar, pear, malta, fig and loquat were planted

10

Attended by Dr. Ahmad Hussain A.P , Azam khan, Tariq Sahib and other colleagues