Department of Soil & Climate Science
Department of Soil & Climate Sciences organized a Symposium on World Soil Day
Department of Soil & Climate Sciences organized a symposium at Iqbal Hall, Ibn Sina Block on December 07th 2021. The event was conducted in support of the UOH Star Society.
The symposium was titled:
Climate Change and Soil Dynamics
Dr. Ali Raza Gurmani (Chief Event Organizer) opened the proceedings by welcoming the guests and participants. A student from post graduate college recited few verses of the Holy Quran. The session elaborated the following key points:
Climate Change

Climate and Government

World Soil Day
Dr. Shaukat Ali (GCISC, Ministry of Climate Change, Islamabad) was the guest of honor for this event and delivered his talk on "Climate Change and Soil Dynamics". Poster, model and painting competition was also organized by the UOH Star Society among students at different schools and colleges of Haripur City.
The honorable Vice Chancellor Prof. Dr. Anwar-ul-Hassan Gilani (T.I., S.I.) graced the event with his remarks and stressed on the importance of climate change and world soil day for community. At the end, shields and souvenirs were presented to the guest with Prof. Dr. Abid Farid, Dean, Faculty of Agriculture and Applied Sciences and Dr. Ali Raza Gurmani, Chairman, Department of Soil & Climate Sciences.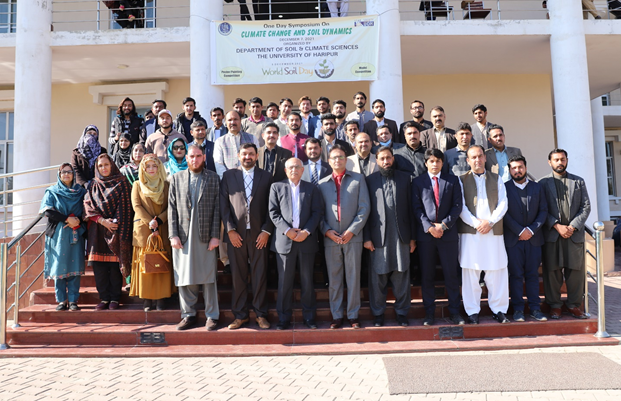 The event was a huge success and students from all departments in the university actively participated. Students from Affiliate colleges also participated in handsome numbers. UOH Star society were the joint organizers for this successful event. This event marks a beginning of a new capacity building initiative at UoH.